Hotel

You can stay at the Hotel Park Inn Berlin - Alexanderplatz, which is in walking distance from the Museum of Islamic Art.
We were able to obtain special rates available under the password "Volkmanntreffen 2016" at Euro 119 for a double room per night, incl. all taxes, plus City Tax 4.95 € and Euro 109 for a single room.
Please keep in mind that availability of rooms is until Sept. 25.
All rooms have showers or baths and WC and the breakfast buffet is included in the room price (ask for a violet menu of the restaurant Spagos).

Please make your own reservations as soon as possible.



Hotel Park Inn Berlin-Alexanderplatz

Am Alexanderplatz

10178 Berlin

Tel: +49 (0) 30 - 23 89 - 4333

Fax: +49 (0) 30 - 23 89 - 4546

e-mail: reservations@parkinn-berlin.com

www.parkinn-berlin.de
www.parkinn.com
Übersicht Veranstaltungsort als pdf-Datei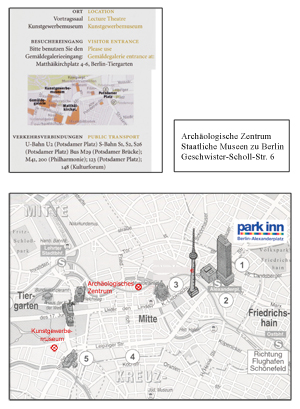 www.museumsinsel-berlin.de/gebaeude/archaeologisches-zentrum