Ladies and Gentlemen, dear Friends,

Wilhelm von Bode had advocated for a long time the building of a new museum, the Kaiser-Friedrich-Museum, in Berlin, and on Oct. 18, 1904 the present Bode Museum opened to the public. With the addition of an Islamic section to the collections of European painting and sculpture, Bode had scored a major victory over the resistance of his director colleagues of the other Berlin museums.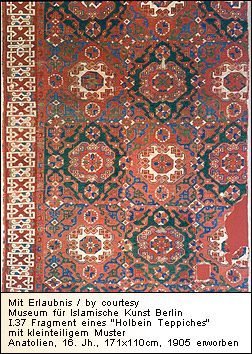 Already in the early seventies of the 19th century Bode had discovered the oriental carpet and begun to collect carpets whose identity with those carpets seen in paintings, had come to my attention. In his letter of Sept. 29, 1904 he offers to donate his carpets collected in over thirty years to the General Director of the Berlin Museums, under the condition, that they remain in the Kaiser-Friedrich-Museum until the opening of the Museum of Asian Art. There are about twenty of them, in their own way mostly in excellent condition.
We take the presentation of Werner Brüggemann's opus magnum "Der Orientteppich - Einblicke in Geschichte und Ästhetik" and that of the Festschrift for Jens Kröger as an opportunity to invite you to Berlin for the Volkmann Treffen 2007. We would like to honour The Berlin School of Carpet Studies and Wilhelm von Bode with a series of lectures. At the occasion of this Volkmann Treffen there will be a special exhibit displaying, with the exception of two pieces now travelling, all Holbein carpets in the collections of the museum, most of them purchased by Wilhelm von Bode, among them little known or even unknown pieces.
We have planned a dinner for the participants of the Volkmann Treffen for the evening of Oct. 27, 2007 in the restaurant "Humboldt's 2" of the Hotel Park Inn, Berlin - Alexanderplatz. All participants have to do their own final acccounting for dinner (Buffet Euro 17 per person) plus drinks.
I cordially invite you to Berlin for the weekend of October 26 to 28.
With best regards
Christian Erber für Volkmann-Treffen 2007

P.S.
Please remember that it is never too late for registration!
But, early registrations facilitate the work.

P.P.S.
You can stay at the Hotel Park Inn Berlin - Alexanderplatz which is in walking distance from the Museum of Islamic Art. We were able to obtain special rates available under the password "Volkmanntreffen 2007" at Euro 126 for a double room, Euro 110 for a single room per night, incl. all taxes. Please keep in mind that availability of rooms is not limited until the beginning of October. Thereafter the hotel reserves the right to limit availability until Oct. 13.
All rooms have showers or baths and WC and the breakfast buffet is included in the room price.
Please make your own reservations as soon as possible.
Hotel Park Inn Berlin-Alexanderplatz
Am Alexanderplatz
10178 Berlin
Tel: +49 (0) 30 - 23 89 - 4333
Fax: +49 (0) 30 - 23 89 - 4546
e-mail: reservations.berlin@rezidorparkinn.com
www.parkinn-berlin.de
www.parkinn.com

NB: Das The Volkmann Treffen 2008 will probably take place in October 2008