The Undiscovered Kilim?
30 Years after

Volkmanntreffen 2008
Berlin, October 10 - 12, 2008
in collaboration with the Museum of Islamic Art
Staatliche Museen of Berlin
Museum Island, Pergamon Museum
Berlin-Mitte, Am Kupfergraben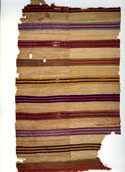 Kilim in two parts, Divle, East Central Anatolia, 18th century. Prammer Collection






More than thirty years after the appearance of The Undiscovered Kilim, the question arises whether the kilim still remains undiscovered or has, in fact, been discovered. Clive Loveless, who together with David Black published this early book of extreme importance for all fans of flatweaves, recalls 23 March 1977, the date of the opening of a kilim exhibition for which there had been just seven weeks to prepare. "I can still remember the feeling of space and light at the show with the often monumental tapestries seeming to float off the walls. The whole upper gallery took on an almost spiritual ambience of harmonious colour and abstract form." Something similar will be experienced by participants of the 2008 Volkmanntreffen when they walk up the steps to the Museum of Islamic Art in Berlin on the evening of 10 October 2008 to attend the opening of an exhibition in which Anatolian kilims from the Prammer Collection will be displayed, integrated into the museum's own collection.

Thirty years after the memorable exhibition at London's Whitechapel Gallery, thanks to the many publications that have appeared all over the world in connection with exhibitions of Anatolian kilims but also as a result of the extensive, serious activities of individual experts and academics, knowledge about the origin and dissemination of weavings, the design and chromatic quality of textile works is no longer undiscovered. Nevertheless, the question mark is not unjustified. Has the kilim truly been discovered, are there no new discoveries after many a false development, and have all the questions been answered in the many publications and in the lectures at national and international conferences? What is the source of the fascination that continues to grip the collector?

The 2008 Volkmanntreffen will explore whether there is really nothing new, nothing still unknown. In their different ways, without speculation and drawing on new and the very latest sources, Michael Franses, Elena Tsareva and Jürg Rageth will report on references, relationships, and pattern transport. Volkmar Enderlein will address a group of flatweaves that is so far not particularly prized by collectors. And Martha Henze will follow up traces that lead to Africa.

The contributions of selected collectors talking about a kilim of their own choice should be particularly delightful. Each of these "Connoisseurs Choice" kilims will be shown to participants in situ. In this way, the entire breadth and scope of the world of the kilim can be comprehended via already known, but also some previously unknown, pieces.

The 2008 Volkmanntreffen is dedicated to Josephine Powell and Charles Lave. Their deaths are a great loss, but in commemorating these two people their services to the Anatolian kilim remain unforgettable.


| | | |
| --- | --- | --- |
| | | |
| Kilim, Eskisehir, Sivrihisar, Central Anatolia, circa. 17th century. Prammer Collection | | Kilim camel cover, West Anatolia, 18th century. Prammer Collection |